The only middleweight bout on the UFC on FUEL TV 5 card came on the preliminary card as TUF alum Brad Tavares took on Tom Watson, who was making his UFC debut.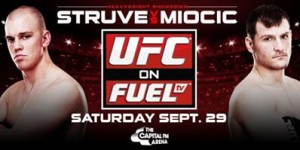 The fighters started the fight by standing in the middle of the octagon and trading strikes.
Tavares attempted to take the fight to the ground, when they were next to the cage and Watson was able to stop the attempt.
As the action continues, Watson attempted to land a knee to the stomach, but the strike landed in his groin. The former TUF contestant was allowed five minutes to recover, but only took about a minute.
The fighters would stand and trade for the next two minutes. Tavares then looked for another takedown near the cage and Watson was able to wall walk to get back to his feet. When the fighters were back standing, Watson landed a low kick which caught his opponent in the groin. The referee warned Watson that if he landed another illegal groin shot, he would be deducted a point.
As the second round started, the fighters exchanged low leg kicks and Tavares was using his jab to create space for himself. They continue to stand in the middle of the octagon and trade shots, with both fighters throwing combinations.
Tavares would go for a takedown, which was successful and get his opponents back. Once getting the back, he went straight for the rear-naked choke. After being unable to get the choke, he let it go and re-established his position. He would once again go for the submission, but the round would expire before the submission could be executed.
At the start of the round, Watson went for a takedown, but could not finished the takedown. After a brief exchange, Tavares was able to get a takedown with Watson by the cage. After a brief stoppage by the referee to fix Watson's equipment, Tavares attempted a takedown, but was stopped. The two fighters would have a grinding grappling bout the rest of the round and the fight would be in the hands of the judges.
The judges were split on the decision with two of the three judges scoring the fight for Tavares (9-1) and he wins his second straight fight and improves 4-1 in the UFC. The lost for Watson (15-5) snaps a three fight winning streak, with his last lost coming in 2010.
UFC on FUEL TV 5 Result:
Brad Tavares def. Tom Watson via unanimous decision (30-27, 28-29, 29-28)
Gunnar Nelson def. DaMarques Johnson via submission (rear-naked choke) – Round 1, 3:34
Robbie Peralta def. Jason Young via knockout (strikes) – Round 1, :23