The second fight on the UFC on FUEL TV 5 preliminary card was a catchweight bout as Gunnar Nelson took on DaMarques Johnson in his UFC debut.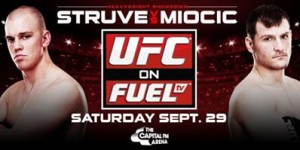 Nelson came out in a karate stance, very similar to former light heavyweight champion Lyoto Machida and seemed to confused the UFC veteran.
Nelson would look for the takedown and ended up successfully taking the fight to the ground. While on his back, Johnson began to look for a submission, but Nelson was able to escape and get back to top position. He would tranistion to get the back of Johnson and started to work a rear-naked choke submission.
Johnson was able to stop the submission attempt, but Nelson was able to lock his legs around the stomach of Johnson. He would once again get the back of Johnson and lock in the rear-naked choke and Johnson was unable to escape and the fight was over.
Nelson (10-0-1) has now won ten straight fights and his last four wins have all come by submission in the first round. On the other side, Johnson (18-12) has now lost three fights in a row and may be cut by the UFC following this lost.
UFC on FUEL TV 5 Result:
Gunnar Nelson def. DaMarques Johnson via submission (rear-naked choke) – Round 1, 3:34
Robbie Peralta def. Jason Young via knockout (strikes) – Round 1, :23