The second fight on the main card of UFC on Fuel TV 5 featured John Hathaway taking on John Maguire in a battle of two welterweight prospects looking get to the next level.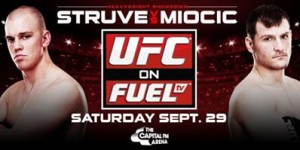 Both fighters in the first round decided to make the round mostly a stand-up affair.
Both Hathaway and Maguire traded punches-and-kicks until Magurie worked for a late take-down that was unsuccessful.  The round closed with neither fighter really establishing themselves.
The second round started out where the first left off until Hathaway was able to get the fight to the ground and secure half-guard. Maguire had a very busy guard and at one point even tried a quick triangle choke that Hathaway pulled out of. Hathaway then stepped back to try an get a better position, but landed himself right back into half-guard again.
As the round wore on, Hathaway started to utilize standing kicks to Maguire's open guard. Hathaway wanted no part of Maguire getting back up and Hathaway finished the round with some strong ground-and-pound to the body.
The third round started out like the first two, but Hathaway did start to frustrate Maguire with swooping punches and superior movement. Hathaway did a great job of coming in-and-out mixing up jabs and kicks. Maguire early on was unable to really mount any type of momentum.  As the round wore on Hathaway continued to push but was eventually taken down by Maguire. Maguire secured half-guard and stayed busy throughout the final minute of the round finishing with a decent flurry from the top.
In the end, the last take-down by Maguire was not enough as the judges awarded a unanimous decision victory (30-27 sweep) to John Hathaway.
UFC on FUEL TV 5 Result:
John Hathaway def. John Maguire via unanimous decision (30-27, 30-27, 30-27)
Che Mills def. Duane Ludwig via TKO (injury) – Round 1, 2:28
Jimi Manuwa def. Kyle Kingsbury via TKO (doctors stoppage) – Round 2, 5:00
Akira Corassani def. Andy Ogle via split decision (28-29, 30-27, 29-28)
Brad Tavares def. Tom Watson via split decision (30-27, 28-29, 29-28)
Gunnar Nelson def. DaMarques Johnson via submission (rear-naked choke) – Round 1, 3:34
Robbie Peralta def. Jason Young via knockout (strikes) – Round 1, :23