The third fight on the main card of UFC on Fuel TV 5 featured the Liverpool submission magician Paul Sass against gritty veteran Matt Wiman in a lightweight bout.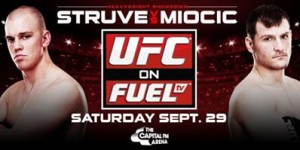 The first round started out Sass grabbing a quick take-down.  Sass then immediately moved Wiman to the fence and started working positions.
Wiman did a great job early of keeping Sass in his full-guard.  Sass then started working elbows to open up Wiman's guard a little bit.  Sass then went for a leg lock, lost position and Wiman landed on top.
Sass then forced a little flurry and Wiman escaped a submission attempt and Sass landed back on-top again. Another flurry ensued and Wiman locked in a triangle which Sass was able to pop out of fairly quickly.  Sass then grabbed a dominant top-position again and was dropping some solid elbows. Wiman then moved positions and got Sass into an arm-bar but got stuck against the fence. Wiman finally worked off the fence and forced Sass to tap via arm-bar at the 3:48 mark of the first round.
UFC on FUEL TV 5 Result:
Matt Wiman def. Paul Sass via submission (arm-bar) Round 1, 3:48
John Hathaway def. John Maguire via unanimous decision (30-27, 30-27, 30-27)
Che Mills def. Duane Ludwig via TKO (injury) – Round 1, 2:28
Jimi Manuwa def. Kyle Kingsbury via TKO (doctors stoppage) – Round 2, 5:00
Akira Corassani def. Andy Ogle via split decision (28-29, 30-27, 29-28)
Brad Tavares def. Tom Watson via split decision (30-27, 28-29, 29-28)
Gunnar Nelson def. DaMarques Johnson via submission (rear-naked choke) – Round 1, 3:34
Robbie Peralta def. Jason Young via knockout (strikes) – Round 1, :23