The fourth fight on the main card of UFC on Fuel TV 5 pitted Yves Jabouin against Brad Pickett with the winner looking to gain ground in the 135 pound division.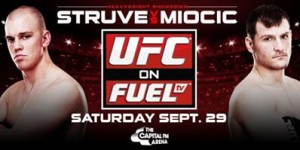 The first round opened up with both fighters trading some decent strikes.  Jabouin looked good early and was hitting Pickett with some pretty clean shots.
After a couple of quick flurries it looked like this was going to be a stand-up war which was what the Nottingham crowd was certainly looking for.
Jabouin then started landing some heavy shots and then executed a spinning back-kick which landed right on Pickett's body. Pickett quickly countered by attacking inside and he landed a huge upper-cut which immediately dropped Jabouin. Pickett then pounced in and landed a few more punches before the fight was stopped at the 3:40 mark of the first round.
UFC on FUEL TV 5 Result:
Brad Pickett def. Yves Jabouin via knockout (punches) Round 1, 3:40
Matt Wiman def. Paul Sass via submission (arm-bar) Round 1, 3:48
John Hathaway def. John Maguire via unanimous decision (30-27, 30-27, 30-27)
Che Mills def. Duane Ludwig via TKO (injury) – Round 1, 2:28
Jimi Manuwa def. Kyle Kingsbury via TKO (doctors stoppage) – Round 2, 5:00
Akira Corassani def. Andy Ogle via split decision (28-29, 30-27, 29-28)
Brad Tavares def. Tom Watson via split decision (30-27, 28-29, 29-28)
Gunnar Nelson def. DaMarques Johnson via submission (rear-naked choke) – Round 1, 3:34
Robbie Peralta def. Jason Young via knockout (strikes) – Round 1, :23