The co-main event of the UFC on Fuel TV 5 pitted Nottingham local Dan Hardy vs TUF winner Amir Sadollah in a highly anticipated welterweight contest.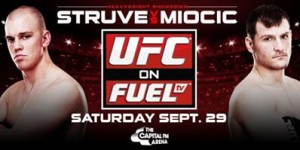 The first round started out with the local Nottingham fans going crazy for the local Hardy.  Hardy came out very quick on his feet and wanted to keep the fight standing.
Amir was very tentative early and Hardy continually looked to exploit with beautiful counter-punches and combinations. The fighters then clinched up near the end of the round with Amir getting the better of the early part. Hardy then reversed and finished off the round with some solid elbows from the clinch.
The second round started off with the fans being louder than the first round as Hardy opened with some solid kick and jab combinations. Hardy then continued to push the pace as Amir did a good job of weathering the initial storm. Hardy then shot in and nabbed a double-leg take-down that lead Hardy into Amir's guard. After some movement on the bottom, Amir tried sinking in a triangle and then seemed to look for an arm-bar. Hardy did a good job of defending both attempts and finished the round off with a shot from the top.
The third round once again opened with the fans getting louder and heavy chants of Hardy.  Hardy then quickly looked for a take-down but ended up landing in the clinch. Amir tried to position himself, but ended up taking some serious damage from Hardy's striking.  Hardy then missed a superman punch and countered it with a right that dropped Amir.
From there Hardy really started plastering Amir with some solid ground-and-pound elbows that were clearly leaving their mark. The round finished with Hardy dropping another vicious elbow to the bell.
From there the fight went to the judges and they scored it a unanimous decision victory (29-28, 29-28 and 30-27) in favor of Dan Hardy over Amir Sadollah.
UFC on FUEL TV 5 Result:
Dan Hardy def. Amir Sadollah via unanimous decision (29-28, 29-28, 30-27)
Brad Pickett def. Yves Jabouin via knockout (punches) Round 1, 3:40
Matt Wiman def. Paul Sass via submission (arm-bar) Round 1, 3:48
John Hathaway def. John Maguire via unanimous decision (30-27, 30-27, 30-27)
Che Mills def. Duane Ludwig via TKO (injury) – Round 1, 2:28
Jimi Manuwa def. Kyle Kingsbury via TKO (doctors stoppage) – Round 2, 5:00
Akira Corassani def. Andy Ogle via split decision (28-29, 30-27, 29-28)
Brad Tavares def. Tom Watson via split decision (30-27, 28-29, 29-28)
Gunnar Nelson def. DaMarques Johnson via submission (rear-naked choke) – Round 1, 3:34
Robbie Peralta def. Jason Young via knockout (strikes) – Round 1, :23