The main event of the UFC on Fuel TV 5 was a highly anticipated heavyweight contest between Stefan Struve and Stipe Miocic.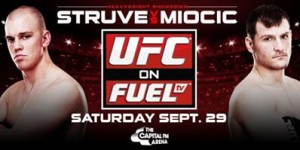 The first round opened with both fighters trying to advance position with striking.  The larger Struve was handling himself well and Miocic was trying to counter the reach advantage by coming inside with body combinations.
As the round wore on Miocic's game-plan of getting inside seemed to be working well as he was landing combo-after-combo. Near the end of the round Struve started to incorporate knees to keep Miocic away. Struve then fell to the ground but Miocic wasn't able to capitalize as Struve got right up. The round finished with Miocic landing more body shots.
The second round started with Struve landing a high inside leg kick to the groin. Miocic didn't take anytime to recover and went right back to getting inside the bigger Struve. As the round wore on Struve started to use his size to his advantage and started chasing Miocic around the ring with uppercuts. Miocic then slowed the pace down by getting inside again. Struve then came after Miocic again with an onslaught of uppercuts and finished him via TKO at 3:56 of the second round.
UFC on FUEL TV 5 Result:
Stefan Struve def. Stipe Miocic via TKO (strikes) Round 2, 3:56
Dan Hardy def. Amir Sadollah via unanimous decision (29-28, 29-28, 30-27)
Brad Pickett def. Yves Jabouin via knockout (punches) Round 1, 3:40
Matt Wiman def. Paul Sass via submission (arm-bar) Round 1, 3:48
John Hathaway def. John Maguire via unanimous decision (30-27, 30-27, 30-27)
Che Mills def. Duane Ludwig via TKO (injury) – Round 1, 2:28
Jimi Manuwa def. Kyle Kingsbury via TKO (doctors stoppage) – Round 2, 5:00
Akira Corassani def. Andy Ogle via split decision (28-29, 30-27, 29-28)
Brad Tavares def. Tom Watson via split decision (30-27, 28-29, 29-28)
Gunnar Nelson def. DaMarques Johnson via submission (rear-naked choke) – Round 1, 3:34
Robbie Peralta def. Jason Young via knockout (strikes) – Round 1, :23