Bellator heavyweight champion Cole Konrad officially announced his retirement today and the future of the Bellator title has not been determined at this point.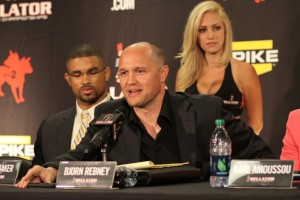 Bellator Chairman and CEO Bjorn Rebney talked to TheMMAReport.com on Thursday night about the retirement of Konrad and the future of the heavyweight division.
Rebney found out about the retirement of Konrad like most people and called the fighter to find out what was going on.
"Cole had been trying to get ahold of me," Rebney told TheMMAReport.com. "I got a text message from him and literally before I got a chance to return his text message, I saw something pop up on Twitter and I immediately reached out to Cole."
Konrad has decided to leave mixed martial arts for a career as an agricultural commodities trader, specializing in dairy products. This decision by Konrad did come as a surprise to Rebney, but he understands the decision after talking to the fighter.
"It was a surprise to me. Cole is the consummate competitor and has been heavily focused on refining his craft. He is very young, but I had a great conversation with him. I just had the kind of conversation you have with a friend. He just explained it to me and you go into a call like that and you think well I'm going to try to convince him otherwise. When I heard his logic, his explanation, emotion behind it in term of where is head was, all I could do is tell him that I would be there for him anything he needed."
If Konrad did decided to come back to MMA, he said in today's Bellator press release that he would come back to Bellator. After his conversation with the fighter, Rebney does not believe he will come back, but he would be thrilled to see him in the cage again.
With Konrad retiring, the question becomes what will Bellator do with the heavyweight division?
There will be a heavyweight tournament in the upcoming seventh season which will see fighters such as Brett Rogers, Eric Prindle, Thiago Santos and Rich Hale. The tournament will kick off at Bellator 75 and Rebney has not decided if the winner will become the new heavyweight champion.
"Sam and I are going to have to sit down with our talent development team and figure out exactly when that transfer of the guard will incur. Whether it directly attached to season seven competition or not remains to be seen. It will be as is everything in Bellator objective in nature and a tournament winner will ultimately determine who becomes the next champion. Exactly when that will occur and how, Sam and I have literally not have the opportunity sit down and discuss with the team."
It would seem that the winner of the season seven tournament would become the next heavyweight champion, but that has not been decided by Bellator officials at this time.