Former Bellator lightweight champion Eddie Alvarez will headline Bellator 76 at Caesars Windsor against Patricky "Pitbull" Freire and will feature the quarterfinals of the next featherweight tournament.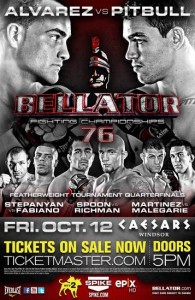 "Eddie and Pitbull are two of the most explosive, dynamic Lightweights in MMA.  This is a fight I've wanted to see for the last two years," said Bellator Chairman & CEO Bjorn Rebney. "Our Featherweight Tournament features eight world class athletes with a combined 106-15 record that are always looking for the finish, so our fans in Windsor are in for a treat on October 12."
This will be the last fight on the contract for Alvarez and his future with Bellator is uncertain at this point. Pitbull is excited for this opportunity to take on a former champion and plans to put on a show.
"October 12 is going to be a big test for me, but I'm very happy for this fight, and the opportunity Bellator is giving me to fight someone like Eddie Alvarez," Pitbull said. "I can't put into words the emotion I'm feeling from thinking about this fight. I'm a warrior, and I always fight for pride. I want this fight, and I'm going to give the fans a show."
The rest of the main card at Bellator 76 in Canada will feature the season seven featherweight tournament with the winner earning a title shot with the title currently being held by Pat Curran.
The quarterfinal bouts at Bellator 76 will be Rad Martinez (12-2) vs. Nazareno Malegarie (22-2), Akop Stepanyan (12-3) vs. Wagnney Fabiano (14-3), Mike Richman (12-1) vs. Jeremy Spoon (12-1) and Shahbulat Shamhalaev (9-1-1) vs. Cody Bollinger (13-2-1).
The main card of Bellator 76 will be televised live on MTV2 and in commercial free high definition on EPIX2 at 8 p.m. ET and the current main card is below.
Main Card: (MTV2/EPIX2 – 8 p.m ET)
Eddie Alvarez (23-3) vs. Patricio Pitbull (10-3)
Rad Martinez (12-2) vs. Nazareno Malegarie (22-2)
Akop Stepanyan (12-3) vs. Wagnney Fabiano (14-3)
Mike Richman (12-1) vs. Jeremy Spoon (12-1)
Shahbulat Shamhalaev (9-1-1) vs. Cody Bollinger (13-2-1)