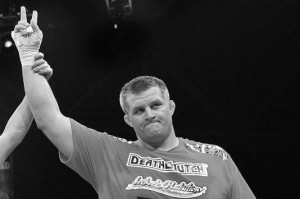 Bellator heavyweight champion Cole Konrad has retired from mixed martial arts and will begin his career as an agricultural commodities trader, which he will specialize in dairy products.
Konrad (9-0) has been thinking about retirement for some time and decided this was the time to make the decision.
"This decision has been on my mind for a while, and the time was finally right to make the move," Konrad said. "I wrestled my whole life and it was one of the only things I ever knew. When my college career was over, MMA seemed like the natural progression, but it was never really my passion. I thoroughly enjoyed my time inside the Bellator cage, but having the consistency and stability of going to the office every day is something that just made sense to me."
He is coming off a 60 second submission victory over Eric Prindle earlier this year, which was his first title defense since becoming champion in the inaugural Bellator heavyweight tournament during the third season.
If Konrad decides that he wants to come out of retirement in the future, he says that he would come back to Bellator.
"I can't say enough good things about my time with Bellator," Konrad said. "I enjoyed every second of my time in the cage, and having a boss like Bjorn was a pleasure. Bellator does things the right way, and if I ever find myself back in the cage, there is no doubt in my mind it will be with Bellator."
Bellator Chairman & CEO Bjorn Rebney has released a statement on the retirement of Konrad and will work with match maker Sam Caplan to figure out how they will crown the next Bellator heavyweight champion.
"There are very few fighters in MMA who can completely control a fight like Cole Konrad could," said Rebney. "Cole's a very smart and gifted individual, who will continue achieving excellence in everything he does. I wish Cole, his wife and family the very, very best as he moves into this new stage of his life. Cole was a great Bellator Champion, and now Sam and I will determine exactly how and when the new Bellator Heavyweight Champion will be crowned."
Bellator previously announced that they would hold a tournament during the upcoming seventh season and the quarterfinals are set for Bellator 75 on October 5th in Hammond, Indiana.