One month ago, UFC light heavyweight Stephan Bonnar was essentially a retired fighter. He had not officially retired, but it appeared to be the case.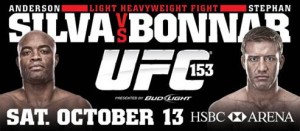 He was in Tampa, Florida helping Dave Bautista get ready for his professional mixed martial arts debut when he got the call about stepping up on short notice to take on Anderson Silva in a light heavyweight bout at UFC 153 in Brazil.
After accepting the fight, Bonnar headed back to Las Vegas to prepare himself for the biggest fight of his life. When the fight was announced, he was a 14 to 1 underdog and he is currently a 11 to 1 underdog.
Can Bonnar somehow pull off the greatest upset in mixed martial arts history tomorrow night at the HSBC Arena in Rio de Janerio?
I am not saying that he will win tomorrow night, but there is a saying in this sport that styles makes fights and Bonnar has the style that could defeat the UFC middleweight champion.
Chael Sonnen put the gameplan out for everyone to use against Silva in his two fights with the UFC champion. Sonnen knew he needed to get the fight to the ground and use his ground strikes to defeat the champion.
In the first fight at UFC 117, Sonnen put Silva on his back for four and a half rounds before Silva pulled off one of the greatest come from behind victories with a submission in the fifth round. Then in the rematch at UFC 148, Sonnen used the same gameplan which was successful in the first round. However, he was unable to get the fight to the ground in the second round, missed a spinning back fist and Silva capitalized and finished the fight.
For Bonnar to win tomorrow night, he must get the fight to the ground and use his size advantage to keep Silva on his back. Bonnar will likely have 10-15 pound advantage when they enter the cage tomorrow night.
Even thought he has never been knocked out in his career, Bonnar will not want to trade strikes with his opponent. Silva will have a speed advantage in the fight, which has been on display in his two previous light heavyweight bouts.
If Bonnar can immediately go for a takedown and keep Silva on the mat, he has an excellent shot at winning the fight. If he can not get the takedown early in the first round, it could be a short night for "The American Psycho."