In front of a crowd of roughly 2,500 at the Dunkin Donuts Center in Providence, Rhode Island, former WWE superstar Dave Bautista faced off against MMA veteran Vince Lucero in the CES MMA "Real Pain" main event. The evenings under-card also was stacked with former UFC, Strikeforce, WEC and Bellator talent, but the worlds eyes were squarely fixated on Bautista's debut.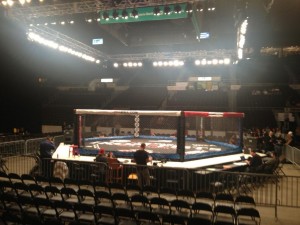 The main event started out with an unusual lengthy entrance for Bautista that included some promotional spots for his upcoming movie. After that (and this is a first for me) CES MMA had a local group come into the cage and sing the National Anthem. Again, very odd, but the crowd seemed to dig it.
When the bout finally began Lucero rushed Bautista and forced him into the cage.  From there Lucero landed some heavy damage and Bautista tried to bring the fight to the center of the cage. After a series of exchanges Bautista found himself taking damage and being up-against the cage again. At one point, Lucero was actually holding onto the top of the cage with one arm and waving to the fans with his other. Veteran UFC Referee Dan Miragliotta immediately stepped in and split the two up.
Once they were split Bautista rushed in for a take-down and got Lucero on his back. Bautista was working some good hammer-fist combinations and even tried a couple of lazy submissions. Bautista then secured top full-mount and weighed down some heavy blows (some to the back of his head that went unnoticed) and referee Dan Miragliotta had no choice but to step in and call the fight at the 4:05 mark of the 1st round due to TKO.

After the fight, UFC veteran Joe Lauzon did an in-ring interview with both Bautista and Lucero and both were very cordial to on-another.  Lucero even threw in some good jokes, but they are too inappropriate to post here. Bautista also expressed his interest in getting back in the cage and announced that his entire CES MMA fight purse will be donated to charity.
In the co-feature of the night, UFC veteran Dave Loiseau stepped back into the cage for the first time in almost 14 months facing off against heavy underdog Chris McNally. It should be noted that during Loiseau's walkout his entire team (including himself) all sported World Series of Fighting t-shirts.  Sign of things to come? I am not exactly sure on that one.
When the two finally squared off Loiseau looked a little tentative at first dropping some weak jabs and being very sloppy with a first take-down attempt. After the butterflies were gone though both pulled each-other down to the ground. McNally landed in-top position but wasn't able to muster up anything and Loiseau spun him over and landed some heavy elbow shots. McNally was almost immediately cut open and the referee stepped in and the doctor recommended the fight be stopped midway through the first round due to cuts.
Another former UFC veteran looked to make a name for himself again last night as Doomsday Howard took a two-fight CES MMA win streak in against another underdog in Brett Chism. Both guys came out swinging in the first round which was a very even round.  Chism even had Doomsday in some bad positions early but Doomsday was able to swell his Chism's right eye making for an interesting second round. The second round started off with a focused Doomsday taking Chism down and going immediately for Chism's swollen eye. Eventually the referee had no choice and had to step in and call it for Doomsday via TKO at the 3:31 mark.
The rest of the nights action was highlighted by a great upset that fit Chandler Holderness defeating the first ever CES MMA Middleweight Champion Todd Chattelle via referee stoppage to strikes at 0:27 of the first round.
Full Card Results:
Dave Bautista defeats Vince Lucero via TKO (Strikes) 4:05 – RD 1
Dave Loiseau defeats Chris McNally via TKO (Doc Stoppage) – RD 1
Doomsday Howard defeats Brett Chism via TKO (Strikes)3:31 – RD 2
Mike Campbell defeats Geimyale Adkins via UD
Calvin Kattar defeats Saul Almeida via UD
Luis Felix defeats Marc Stevens via UD
Tyler King defeats Josh Diekmann via UD
Brennan Ward defeats Shederick Goodridge via TKO (Strikes) – RD1
Andre Soukhamthath defeats Rob Costa via TKO (Doc Stoppage) 4:42 – RD1
Nate Andrews defeats Leon Davis via Submission (Guillotine) 0:29 – RD2
Kevin Horowitz defeats Tyson Chartier via UD