Following his lost to Kyle Noke at UFC 152, welterweight fighter Charlie Brenneman has been released by the company.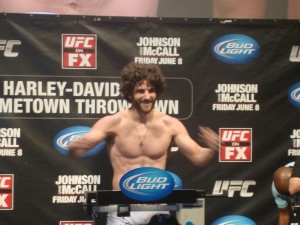 Brenneman (15-5) announced that he had been released on Twitter, which he thanked his fans and said he will be back.
"I'm gone but not forgotten," Brennenman wrote on Twitter. "I'll be bak soon! Thx @ufc @danawhite for the opportunities, and especially to all my loyal fans!!! C u all soon!"
He went 4-4 in the UFC and will be most remembered for taking a fight on 24 hours notice against Rick Story last year. After Nate Marquardt was pulled from the event, the UFC had to shuffle the fight card and they asked him to take a fight against Story. He accepted the fight and was able to score a unanimous decision victory.
Since the Story fight, he has lost three of his last four fights and his only win during that time came against Daniel Roberts at UFC on FX. All of his victories in the UFC were by decision and all of his losses were by either knockout or submission.
If he is able to get some victories outside of the UFC, "The Spianard" should find himself back in the premier mixed martial arts promotion.