UFC heavyweight contender Travis Browne (13-0-1) will be headling a UFC card for the first time on Friday night when he takes on Antonio "Bigfoot" Silva.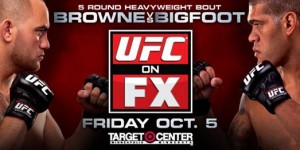 Browne has been moving up the heavyweight rankings since entering the UFC and told "Inside MMA" on AXS TV last night that a win over Silva puts him "in the mix" in the UFC heavyweight division.
"I think after the fight, you are going to put me in the mix with all the contenders," Browne said. "You have Cain Velasquez, Cormier, obviously Dos Santos is the champion, Overeem and then you have the guys that are trying to make a name for themselves."
A win by Browne on Friday night would cement himself as one of the top ten heavyweights in the UFC and would put him just under the names he mentioned.