The UFC returns to Minnesota for the first time since UFC 87 this Friday night for UFC on FX 5, which will be headlined by a five round heavyweight bout between Travis Browne and Antonio Silva.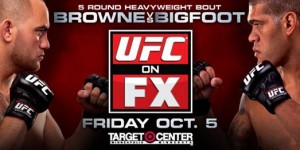 The preliminary card will feature eight fights, with the fights being shown on Facebook and FX.
The Facebook portion of the preliminary card will begin at 4 p.m. ET with two bouts, which the fights being in the welterweight and lightweight divisions.
Aaron Simpson (11-3) vs. Mike Pierce (14-5)
The opening bout of the UFC on FX 5 preliminary card will be a matchup of two UFC veterans, which is a little surprising that this fight is on the Facebook portion of the card.
Over the past couple of months, it seems that the UFC is trying to send a message to wrestlers who do not finish fights. Both of these fighters are known for their wrestling style and have been going the distance in their recent fight. Simpson has not had a stoppage win since 2009 and Pierce's last stoppage win came in earlier 2011.
Simpson is 7-3 in the UFC and recently moved down to the welterweight division. His last six fights have gone to a decision, which he has won four of those fights. In his welterweight debut, he dominated Kenny Robertson at UFC on FUEL TV 4 in July.
Pierce entered the UFC in September of 2009 and has gone 6-3 in the organization. When he has faced top competition, he has been unable to get a victory with losses to Jon Fitch, Johny Hendricks and Josh Koscheck. He is coming off a win at UFC on FX 3 against Carlos Eduardo Rocha and will look for his first two fight winning streak since early 2011.
Both fighters have shown that they prefer to grind out a victory, rather than standing on the feet and looking to knockout their opponent. In their last fights, both guys attempted at least ten takedown attempts, but they may be feeling the pressure to finish the fight.
The fans in attendance at the Target Center will not likely be happy with this fight, if the fighters do what they have done in the past. Look for both guys to attempt to strike earlier and when that fails, they will make it a 15 minute grappling/wrestling bout.
Carlo Prater (30-11-1) vs. Marcus LeVesseur (21-6)
The second fight on the UFC on FX 5 preliminary card on Facebook will be a lightweight contest, with each fighter entering the bout after a defeat in their last fight.
Prater entered the UFC at the beginning of 2012 and scored a disqualification victory at UFC 142 against Erick Silva. The fight appeared at first to be a TKO victory for Silva at the 29 second mark of the first round, but the fight was declared a disqualification because of punches to the back of the head. Prater returned at UFC on FUEL TV 3 in his return to the lightweight division and lost a unanimous decision to TJ Grant.
LeVesseur will be fighting in his hometown on Friday night and will be looking for his first UFC victory. He made his UFC debut at UFC on FUEL TV 3 and lost by guillotine choke to Cody McKenzie in the first round. He is a fighter that likes to finish fights with 17 of his 21 career victories coming by either knockout or submission.
This fight is the classic matchup of a fighter that likes to take the fight to the ground (Prater) and a fighter that wants to trade punches (LeVesseur). Prater will have to get the fight to the ground to have a chance at winning this fight and LeVesseur will have to be careful if he drops his opponent and tries to end the fight with strikes on the mat.