Last Thursday, the UFC announced that the lightweight bout between Dennis Hallman and Thiago Tavares was off and Hallman had been released by the company.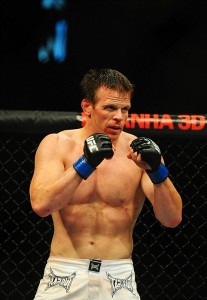 Following the event, UFC President Dana White said that Hallman is going through some personal issues but would not go into detail on what the issues were.
The former UFC fighter talked to Frank Trigg on MMAOddsbreaker.com and revealed what the personal issues he has been dealing with.
Hallman revealed that he has been going though some personal issues with his wife, which he claims has trouble with drugs.
He went into detail on how his in-laws and himself were planning to send his wife to a drug treatment center. His wife found out about the plan, which led to an argument.
After this incident, his wife went in front of a judge to get a resistant order against him, which the judge gave her rights to Hallman's car, even though she is facing a drug DUI charge. He went on to say that the cops showed up at his house the day before he left for UFC on FX 5 and took his daughter away. Since this incident, he has had trouble sleeping and has been a wreck.
He admitted that he would have pulled out of the fight, but currently needs the money to deal with this personal issue. If he is able to get some victories outside of the UFC and show he can make weight, the UFC will bring him back to the company.