UFC welterweight champion Georges St-Pierre has been out of action for the last year and a half due to a knee injury.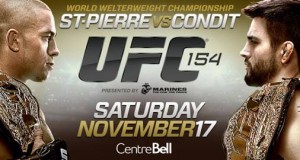 He will be making his return to the octagon next month at UFC 154 on November 17th in Montreal and will face interim welterweight champion Carlos Condit.
In an interview on UFC.com, St-Pierre hopes that Condit targets his knee that he had surgery on.
"I hope that Condit focuses on targeting my knee," St-Pierre said. "It's not a weak link anymore and there is nothing that I can't do now that I was able to do. I will leave with the belt and there is no doubt in my mind."