Quinton "Rampage" Jackson has one more fight left on his UFC contract and his last fight is scheduled to be against Glover Teixeira, who he was scheduled to face at UFC 153 before he suffered an injury.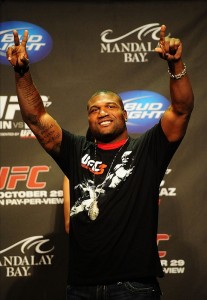 During last night's episode of "Inside MMA" on AXS TV, Rampage talked about Teixeira and how fighters like him can save the sport of MMA.
"Glover is a tough guy," Jackson said. "I like his fighting style. He is a jiu-jitsu guy, but he goes for it and he throws those things. I respect fighters like him. I think the UFC and MMA need more fighters like him. You get fighters like Chael Sonnen that are ruining the sport. Fighters like Glover can save MMA."
Rampage also told the weekly MMA news show his feelings on Sonnen getting a title shot in the light heavyweight division, without holding a light heavyweight win in the UFC.
"His mouth gets him fights," he said. "The dude is like exciting for two minutes. He is a great wrestler, but that's all I'm going to say because everything else sucks."
Jackson only has one more fight left on his UFC contract, which will be completed after his next fight. The UFC has not announced when Jackson will take on Teixeira, but the fight is likely to take place in the early part of 2013.
Prior to this interview, Jackson seemed likely to fight somewhere else besides the UFC once his contract is up but the former UFC light heavyweight champion wants to see if the grass is greener on the other side.
"I want to see what else is out there. I want to see if the grass is greener on the other side. I just want to see it and this is the last fight on my contract and I'm going to destroy Glover. The UFC is a great company, they are doing great things for the sport but I don't feel like they are doing great things for me."
Based on his statement, maybe Jackson could end up resigning with the UFC and attempt to make another run at the title.