One of the most interesting fights on the UFC 153 card will take place on pay-per-view as former title contender Jon Fitch takes on Erick Silva.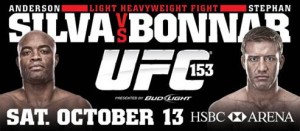 This will be the 17th fight in the UFC career of Fitch and this will only be the fourth time that Silva has stepped into the octagon.
Fitch has no issues with taking on one of the best prospects in the welterweight division, because he wants to face the best guys in the division.
He knows that the future is bright for his opponent, but it's not his time at this moment.
"Erick Silva is a very young and hungry fighter," Fitch said. "He has a bright future, but it's not his time. I will shut him down, like I shut everyone down and I'll beat him up like I do everyone else."
This is Fitch's first fight since UFC 141 last year and his win win came at UFC 117 in August of 2010. He has had injury problems over the past two years and is excited to get in the octagon on Saturday night.
He plans to take whatever Silva give him in the fight and will not force anything on Saturday night at the HSBC Arena in Rio de Janeiro.
"I am going to impose my will on my opponent, no matter who he is or what he is going to do. If they give me an easy takedown, I'm going to take it. If they are allowing me to beat them up in my guard, I'm going to beat them up within their guard. I am not going to force things and I'm going to be like water, go where it's easy and beat you up there."