Thiago Santos and Eric Prindle have their anticipated rematch last week at Bellator 75 and the fight ended with Santos winning by disqualification due to an illegal groin shot.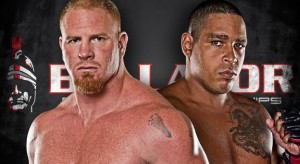 With Santos on the ground, Prindle landed an axe kick to the groin of Santos in the first round and Santos was unable to continue.
After Santos was unable to continue, the fight was declared a disqualification and Santos move onto the semifinals.
At the post fight press conference, Prindle apologized for the illegal strike and Santos has accepted his apology.
@bellatormma @mtv2I would like to send some messages to @ericprindlemma. Eric I accept your apology. I know what you're feeling now.

— Thiago Santos (@BigMonsterMMA) October 11, 2012
@[email protected]@EricPrindleMMA I Hope you come back soon Like you I have kids, a family to care for I know that you fight for your family.

— Thiago Santos (@BigMonsterMMA) October 11, 2012
Santos is scheduled to set back into the Bellator cage on November 2nd at Bellator 79 when he takes on Rich Hale in this seasons heavyweight tournament. The winner will face either Vinicius Queiroz or Alexander Volkov, who face each other in the other semifinal bout.