Jon Jones turned down the opportunity to fight Chael Sonnen at UFC 151, but the fighter has decided to be a coach on the next season of "The Ultimate Fighter" against him and they will meet each other next year.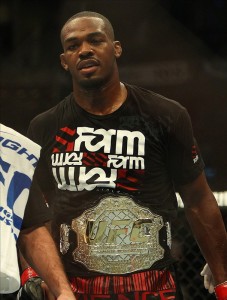 The news was reported by Lance Pugmire of the LA Times, which included quotes from UFC President Dana White.
The filming for TUF 17 is scheduled to being on October 27th in Las Vegas and will begin airing in January of next year and the live finale will take place in April.
Then, Jones and Sonnen will headline a pay-per-view on April 27th and a venue and location for the event has not been announced.
After everything that happened with UFC 151, a likely venue for the card would be the Mandalay Bay Events Center in Las Vegas, which was supposed to host UFC 151.
Jones (16-1) is currently recovering from an arm injury, which happened in his title defense last month against Vitor Belfort and needed extra time to recover for his next title defense.
"Bones" was initially not interested in fighting Sonnen because he felt he needed to earn a shot at the title and not talk himself into the fight.
However, Jones opinion had changed recently after he asked his fans on Twitter who they would like to see him face next. After hearing what the fans had to say, he realized that this is the fight the fans want to see.
The more I realize how bad the fans want to see me fight Sonnen the more I am beginning to disregard whether he deserves it or not," Jones tweeted. "A part of me wants to do it for the fans the other part of me feels as if it delegitimizes the importance of championship."
Sonnen (28-12-1) is coming off a middleweight title lost to Anderson Silva at UFC 148 and recently announced plans to move up to the light heavyweight division. It was originally announced that Sonnen would be taking on Forrest Griffin at UFC 155, but that fight will not take place now.
After seeing that Jones was now interested in the fight, Sonnen reacted on Twitter.
You don't GIVE.I TAKE.Remembah that, Bonesie-Boy @jonnybones

— chael sonnen (@sonnench) October 12, 2012
The Ultimate Fighter reality show has had it worse ratings in the history of the series this year and these two fighters may be what the reality show needs to turn around the ratings for the show.