Junior dos Santos has already started his training camp for his next title defense, which will be against Cain Velasquez on December 29th in Las Vegas at UFC 155.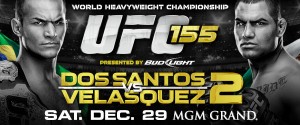 The fight with Velasquez will be a rematch of their 2011 bout where Dos Santos scored a TKO victory in 64 seconds in the first round.
Dos Santos appeared on last night's episode of UFC Tonight on FUEL TV and said that he considers Velasquez as his toughest opponent in the UFC.
"I consider him as my toughest opponent in the UFC cause he is different," Dos Santos said. "His cardio is amazing, he is a really good wrestler and his ground and pound is very tough."
Velasquez is one of the most well rounded heavyweights in the UFC and is known for his ability to take the fight to the ground and use his strikes from their. Dos Santos knows that this is a strength of his and will look to stay away from the ground and keep the fight standing.
"I don't want to go to the ground with him, so my first strategy is always going to be to stay on my feet fighting and looking for the knockout, but if he takes me down and hold me there, I'm going to show you guys my jiu-jitsu."
Since entering the UFC, opponents of Dos Santos has had trouble taking him down and the last opponent to do this was Shane Carwin at UFC 131. Carwin was able to get a takedown during the third round, but Dos Santos was immediately able to get back to him feet.
Velasquez will look to take the fight to the ground on December 29th and it will be interesting to see if he can keep the champion down.