The World Series of Fighting will hold their inaugural event on Saturday night in Las Vegas at Planet Hollywood Live with the main card beginning at 10:30 p.m. ET on the NBC Sports Network.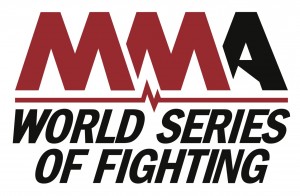 The fight card will begin at 7:30 p.m. ET with the preliminary card on Sherdog.com, which will feature former UFC fighters Josh Burkman, Gerald Harris, Dave Branch, Dustin Jacoby, Waylon Lowe, Brian Cobb and T.J. O'Brien.
The main card will be headlined by former UFC heavyweight champion Andrei Arlovski taking on former Strikeforce heavyweight Devin Cole. Also on the main card will be former UFC fighters Anthony Johnson and Miguel Torres, plus the MMA debut of Tyrone Spong.
The full World Series of Fighting 1 Fight Card is below:
Main Card: (NBC Sports Network – 10:30 p.m. ET)
Andrei Arlovski (17-9) vs. Devin Cole (20-9-1)
Anthony Johnson (13-4) vs. D.J. Linderman (13-3)
Marlon Moraes (8-4-1) vs. Miguel Torres (40-5)
Gregor Gracie (7-2) vs. Tyson Steele (9-1)
Travis Bartlett (7-2) vs. Tyrone Spong (0-0)
Preliminary Card: (Sherdog.com – 7:30 p.m. ET)
Brian Cobb (19-7) vs. Ronys Torres (25-4)
Josh Burkman (23-9) vs. Gerald Harris (21-4)
Dave Branch (10-3) vs. Dustin Jacoby (8-2)
Ramico Blackmon (8-1) vs. Steve Carl (18-3)
Gesias "JZ" Cavalcante (16-6-1) vs. T.J. O'Brien (18-5)
Waylon Lowe (13-4) vs. Fabio Mello (11-6)