Bellator welterweight Paul Daley was scheduled to return to the Bellator cage next week for Bellator 79, but an opponent was never announced.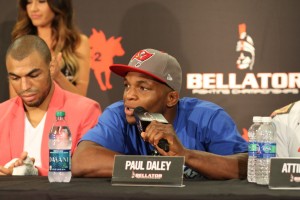 Last week, TheMMAReport.com was able to confirm with sources that Daley would not be on the Bellator 79 fight card and would return in 2013.
Today, Daley (30-12-2) has announced that the reason he was unable to fight was because of visa issues.
"My Nov 2nd fight has been cancelled due to my VISA being delayed," Daley wrote on Facebook. "I will now compete next on Bellator debut on Spike TV, in January 2013, which is also the start of the welterweight tournament, where the winner shall receive $100k."
He is the only fighter that has been confirmed for the next welterweight tournament and the organization has not announce when the tournament will begin. The winner of the tournament will receive a title shot and will get that title shot after this season's welterweight tournament winner gets their shot.
Ben Askren is the current Bellator welterweight champion and he will not return to the Bellator cage till early 2013 when he defends his title against the season six tournament winner Karl Amoussou.