Bellator welterweight Paul Daley was scheduled to return at Bellator 79 on November 2nd for his second fight in the organization, but that fight will not take place.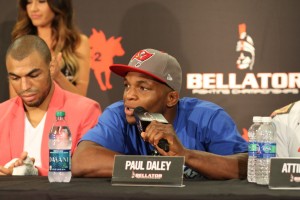 Daley announced this on his Facebook page on Friday morning and he will not return to the Bellator cage until 2013.
"So…..no fight until 2013 now, and the start of the Bellator WW tournament," Daley wrote on Facebook. "Not the best news, as I really needed to fight before 2013, for a number of reason. But at least now I get to spend more time with my Son, and also i can concentrate more on the other Spirit Dojo fighters and the UG 4 show approaching."
Bellator was attempting to get an opponent for Daley, but they could not make a fight happen. There were reports of a potential fight at Bellator 79, but the rumored fight was never official.
Back in August, Daley told TheMMAReport.com that it's frustrating that fighters do not want to take a fight against him.
"It's frustrating but it's not much I can do if they don't want to fight, than they don't want to fight," Daley said. "I can not force someone to fight me and I can understand why someone would not want to fight me."
Daley will not take any fights outside of Bellator and will return at the beginning of 2013 and be one of the participants in the season eight welterweight tournament. Bellator should be announcing in the coming months on the entire field in the season eight welterweight tournament and when it will begin.