After Chael Sonnen received a title shot against Jon Jones, that left Forrest Griffin without an opponent at UFC 155 and he will now face Phil Davis on the card.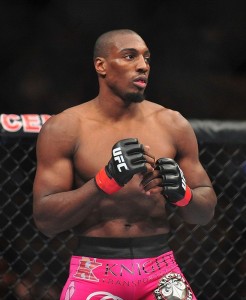 The announcement was made by the UFC on Friday and this will be the co-main event of UFC 155, which will take place on December 29th in Las Vegas.
Davis (10-1) is coming off a submission victory at UFC 153 last weekend against Wagner Prado and it was his first win since March of last year when he defeated Antonio Rogerio Nogueira by unanimous decision.
Since the win over Lil Nog, he has gone 1-1, 1 NC and the lost came in a number one contenders bout against Rashad Evans.
Griffin (19-7) is coming off a victory at UFC 148 against Tito Ortiz and this was his first victory since UFC 126, which took place in February of last year. His win over Ortiz was a close unanimous decision, which some people believe that Ortiz should have won the fight.
UFC 155 takes place on December 29th from the MGM Grand Garden Arena in Las Vegas and is scheduled to be headline by Junior dos Santos defending the UFC heavyweight title against former champion Cain Velasquez in a rematch of their title fight last year.