At the UFC on FX 5 post fight press conference, Dana White announced the fight night bonus winners were Michael Johnson, Justin Edwards, Diego Nunes and Bart Palaszewski.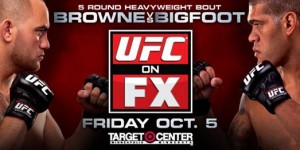 Each fighter will receive $40,000 on top of the salary for the fight.
Johnson won the knockout of the night bonus for his victory over Danny Castillo. Johnson was nearly defeated in the first round after Castillo dropped him, but he recover and scored a knockout victory in the second round.
During the post fight press conference, Johnson said he plans to use the bonus money to fix his car since the air conditioning is going out and he lives in Florida.
Edwards won the submission of the night for his win over Josh Neer on the main card. For the TUF alum, this is the biggest win of his career and improves his UFC record to 2-2. This is his first fight night bonus and is looking for a step up in competition.
Finally, the fight of the night bonus went to preliminary card fighters Nunes and Palaszewski. Nunes dominated most of the fight, but Palaszewski has his moments in the third round. He rocked Nunes in the final round and came close to potentially stopping the fight, but Nunes was able to hang on and get a unanimous decision victory.