The second fight on the preliminary card was a featherweight bout as former WEC fighters square off as Bart Palaszewski took on Diego Nunes.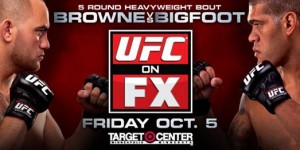 Nunes came out as the aggressor and landed a right hand that had Palaszewski on his heels. The action would go to the ground and Palaszewski would attempt a guillotine choke.
Nunes was able to escape the submission attempt, but once again Palaszewski would attempt a submission, with it being a triangle choke submission. Nunes would be able to escape the submission and was able to get on top position on the ground.
While on the ground, Nunes landed several elbow to the right side of Palaszewski face. The action would get back to the feet after Nunes missed a right hand. With the action back on the feet, Nunes landed a right hand that dropped his opponent. With Palaszewski on the mat, Nunes worked his ground game and was looking to achieve the mount, but was unable to advance positions and the round ended.
Just like the start of the fight, Nunes came out quickly in the second round to get control of the center of the cage. He continued to land his right hand and followed up a right hand strike with a spinning back fist. Nunes would then take Palaszewski down and get in top position. Palaszewski would be able to get off his back and in a standing position. The last two minutes of the round was mainly standing before Nunes achieved a takedown in the final 30 seconds of the round.
At the opening of the third round, Palaszewski landed a short strike that rocked Nunes. Nunes would be able to recover, but the confidence of Palaszewski continued to rise. As the third round was about to Nunes dropped Palaszewski and ended the round in top position.
Nunes would score a unanimous decision victory (30-27, 29-28, 30-27) and has now won three of his five fights in the UFC.
UFC on FX 5 Results:
Diego Nunes def. Bart Palaszewski via unanimous decision (30-27, 29-28, 30-27)
Darren Uyenoyama def. Phil Harris via submission (rear-naked choke) – Round 2, 3:38