The first fight on the UFC on FX 5 preliminary card was a flyweight bout as Darren Uyenoyama made his UFC flyweight debut against Phil Harris, who was making his UFC debut.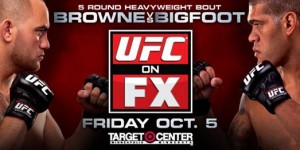 Uyenoyama immediately came out to the center of the octagon and went for a takedown early in the round. Harris was able to hold off the takedown and would eventually take Uyenoyama to the mat.
Uyenoyama was able to get back to his feet for a moment, but Harris was able to get the fight back to the ground. From the bottom, Uyenoyama was able to attempt a triangle choke, but Harris was able to escape and the fighters ended up on their feet. The rest of the first round would be in the striking position, with both fighters looking to close the distance.
The second round started as the first round ended with both fighters striking with each other. Uyenoyama went for a takedown in the second minute of the round and Harris was able to stop the takedown. As the fighters grappled against the fence, the action went to the ground and Uyenoyama got the back of his opponents. He worked his submission game and would end up in top position.
With Harris attempting to get to his feet, Uyenoyama was able to get full mount, once again got the back of Harris and locked in a rear-naked choke. Harris had no choice but to tap out to the submission hold.
UFC on FX 5 Results:
Darren Uyenoyama def. Phil Harris via submission (rear-naked choke) – Round 2, 3:38