UFC welterweight contender Martin Kampmann will be in the co-main event of UFC 154 against Johny Hendricks in a key welterweight bout and the main event will for the welterweight title as Georges St-Pierre takes on Carlos Condit.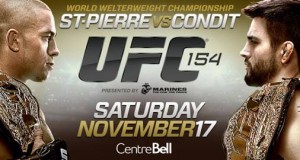 Kampmann was recently asked to break down the main event fight in an interview and believes that St-Pierre will use his wrestling to get a decision win over the current interim champion.
"I think GSP is going to try to make it a wrestling match, take him down, lay on top and I see GSP probably winning a decision," Kampmann said.