The UFC returns to Minneapolis tonight for the first time since UFC 87 in 2009 for UFC on FX 5.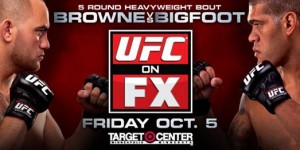 The main card will begin at 8 p.m. ET with four fights, which will be headlined by a five round heavyweight fight and a welterweight fight that was scheduled to take place at UFC 151.
Travis Browne (13-0-1) vs. Antonio "Bigfoot" Silva (16-4)
Browne has gone 4-0-1 in the UFC with the draw coming against Cheick Kongo at UFC 120, which Kongo was deducted a point for holding onto Browne's shorts. Since that draw, he has won three straight fight and is coming off a first round submission victory at UFC 145 against Chad Griggs.
"Bigfoot" is a former Strikeforce heavyweight and was a semifinalist in the heavyweight  tournament. In the quarterfinal of that tournament, he defeated Fedor Emelianenko by TKO. Since defeating Fedor, he has lost back to back fight with the losses coming against Daniel Cormier and Cain Velasquez.
Browne has the opportunity to prove that he is one of the best heavyweight fighters in the world against Silva. Browne's strength is his striking and Silva was been knocked out in his last two fights. Silva will look to take the fight to the ground and use to ground game to wear done Browne. This fight is scheduled for five rounds, but don't look for it to last that long.
Jake Ellenberger (27-6) vs. Jay Hieron (23-5)
This is a rematch of a fight from the IFL in 2006, which Hieron scored a unanimous decision victory. Since that fight, Hieron has gone 14-3, with stints in Affliction, Strikeforce and Bellator. He won the season four welterweight tournament in Bellator, but lost to Ben Askren in a title fight. After Bellator was unwilling to give him a rematch with Askren, he asked for his release which Bellator granted.
Ellenberger appeared to be one win away from a potential title shot earlier this year, but was defeated by Martin Kampmann by knockout in the second round. It was only his second lost in the UFC and was on a six fight winning streak.
If one of these fighters is going to pull off a stoppage victory, it's likely to be Ellenberger. He has power in both hands and can end the fight at any moment. If Hieron is able to get the victory, it will be a grinding 15 minute fight and gets a decision win.
John Dodson (14-5) vs. Jussier Formiga (14-1)
The winner of this fight will become the number one contender for the UFC flyweight title and will face current champion Demetrious Johnson. Dodson was the season 14 winner of "The Ultimate Fighter" and immediately move down to the flyweight division, which was his weight class before the reality show. His UFC flyweight debut came at UFC on FOX 3 and he defeated Tim Elliot by unanimous decision.
This is the UFC debut for Formiga, who enters the UFC as one of the top flyweight fighters in the world. His only career lost came against Ian McCall in early 2011 and is currently on a five fight winning streak. His last four wins have all come by submission and three of those wins are by rear-naked choke.
During yesterday's weigh-in's, it appeared that Formiga had a tough weight cut and that could become a factor if tonight's fight goes all three rounds. Formiga will look to take the fight to the ground to work his submission game and Dodson will look to keep the fight standing and maintain a fast pace. This should be one of the most interesting fights on tonight's card.
Justin Edwards (8-2) vs. Josh Neer (33-11-1)
This will be the first fight of the main card on FX and this is now the fourth time that Neer has appeared on a UFC on FX show. After winning six in a row, Neer lost to Mike Pyle by knockout at UFC on FX 3 and it was only his second career defeat by knockout.
Edwards is a TUF alum of season 13 and has lost two of his three fights in the UFC. After winning his UFC debut against Jorge Lopez, he followed that fight with a lost to John Maguire at UFC 138. He was scheduled to return earlier in the year but suffered an injury and had to pull out of the fight.
Neer is known for putting on good fights and should be able to get a victory against Edwards. Edwards will need to control the pace of the fight to be able to pull off a victory.