The first fight on the UFC on FX 5 main card was a welterweight bout as Josh Neer took on TUF alum Justin Edwards.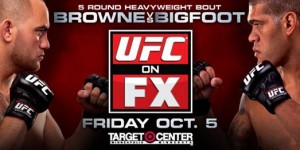 As the fight started, Edwards landed an inside shot that surprised near and looked for a takedown.
Neer was able to stop the takedown against the cage, but Edwards jumped on him and locked in a guillotine choke. Neer tried to slam Edwards to get out of the hold and was unsuccessful. With the choked locked in, Neer did not tap and went to sleep.
This is the second UFC win for Edwards (8-2) and his first submission win since 2010 and Neer (33-12-1) has now dropped two straight fights after winning six fights in a row.
UFC on FX 5 Results:
Justin Edwards def. Josh Neer via submission (guillotine choke)- Round 1, :45
Michael Johnson def. Danny Castillo via KO (strikes) – Round 2, 1:06
Mike Pierce def. Aaron Simpson via KO (strikes) – Round 2, :29
Marcus LeVesseur def. Carlo Prater via split decision (29-28, 28-29, 29-28)
Jacob Volkmann def. Shane Roller via submission (rear-naked choke) – Round 1, 2:38
Diego Nunes def. Bart Palaszewski via unanimous decision (30-27, 29-28, 30-27)
Darren Uyenoyama def. Phil Harris via submission (rear-naked choke) – Round 2, 3:38