The second fight on the UFC on FX 5 card was a number one contenders bout in the UFC flyweight division as John Dodson took on UFC newcomer Jussier Formiga.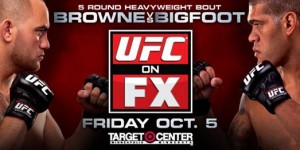 The action started off with the fighters feeling each other out with strikes, with Dodson looking for combos to the head and body.
Formiga went for a double leg takedown, but Dodson was able to stop the attempt. The first round ended with neither fight producing very much process, which caused the crowd at the Target Center to boo the action.
In the second round, the fighters continued to look for their distance and trade jabs with most of the shots not landing. Formiga looked for a takedown after a Dodson combination, but he was able to stuff the attempt.
Dodson landed a left hand that dropped Formiga and looked for the finish. Formiga was able to scramble and survive the strikes of his opponent. From that moment, Dodson appeared more comfortable to come forward and exchange strikes. He then landed another left hand that dropped Formiga once again and finished the fight this time with ground and pound.
With this win, Dodson is now the number one contender in the flyweight division and will get a title shot against current UFC flyweight champion Demetrious Johnson.
UFC on FX 5 Results:
John Dodson def. Jussier Formiga via TKO (strikes) – Round 2, 4:35
Justin Edwards def. Josh Neer via submission (guillotine choke)- Round 1, :45
Michael Johnson def. Danny Castillo via KO (strikes) – Round 2, 1:06
Mike Pierce def. Aaron Simpson via KO (strikes) – Round 2, :29
Marcus LeVesseur def. Carlo Prater via split decision (29-28, 28-29, 29-28)
Jacob Volkmann def. Shane Roller via submission (rear-naked choke) – Round 1, 2:38
Diego Nunes def. Bart Palaszewski via unanimous decision (30-27, 29-28, 30-27)
Darren Uyenoyama def. Phil Harris via submission (rear-naked choke) – Round 2, 3:38