The co-main event of UFC on FX 5 was a rematch of a 2006 bout from the IFL as Jake Ellenberger took on Jay Hieron in a welterweight bout.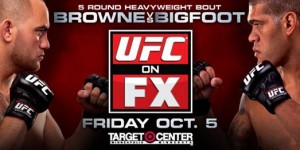 The fight started off with the fighters feeling each other out with Hieron landing several leg kicks to back up his opponent.
Ellenberger is known for being a fast fighter and landed a right hand that seemed to rock his opponent for a moment. Hieron was able to recover quickly before any more damage could come from Ellenberger.
Hieron looked for a takedown, but Ellenberger was able to stop the attempt on one foot and was able to land some strikes before the action got back to the feet. The round would end with the fighters on their feet and Ellenberger seemed to be pacing himself for a three round fight.
In the second round, the fighters would exchange jabs for the first two minutes until Ellenberger went for a takedown, which was successful. Once on the ground, Ellenberger was in top position and opened up a cut on the face of his opponent. Hieron was able to get off his back and the fight went back to the feet.
After the second round, Hieron's corner told him to let his hands go and that's what he did at the beginning of the round. He landed an accidental groin shot, which stopped the action for a moment. When the action continued, Ellenberger went for a double leg takedown, but the attempt was unsuccessful.
Ellenberger was the aggressor in the final two minutes of the round and the judges would decide who would be the winner. All three judges scored the fight the same as Ellenberger gets a unanimous decision victory.
UFC on FX 5 Results:
Jake Ellenberger def. Jay Hieron via unanimous decision (29-28, 29-28, 29-28)
John Dodson def. Jussier Formiga via TKO (strikes) – Round 2, 4:35
Justin Edwards def. Josh Neer via submission (guillotine choke)- Round 1, :45
Michael Johnson def. Danny Castillo via KO (strikes) – Round 2, 1:06
Mike Pierce def. Aaron Simpson via KO (strikes) – Round 2, :29
Marcus LeVesseur def. Carlo Prater via split decision (29-28, 28-29, 29-28)
Jacob Volkmann def. Shane Roller via submission (rear-naked choke) – Round 1, 2:38
Diego Nunes def. Bart Palaszewski via unanimous decision (30-27, 29-28, 30-27)
Darren Uyenoyama def. Phil Harris via submission (rear-naked choke) – Round 2, 3:38