Bellator 79 takes place tonight at Casino Rama in Rama, Ontario, Canada and the main card will feature two tournament semifinal bouts.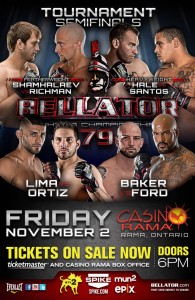 Along with the two tournament semifinals bouts, the card will feature the return of season five welterweight tournament winner Douglas Lima and Canadian fighter Ryan Ford.
The fight card will begin at 6 p.m. ET with the preliminary card on Spike.com and the main card will begin at 8 p.m. ET on MTV2 and in commercial free high definition on EPIX2.
Thiago Santos (11-1, 1NC) vs. Richard Hale (20-4)
This is the second heavyweight tournament for Thiago Santos as he was a finalist in the season five tournament. After correcting his weight issue, Santos returned to Bellator last month and defeated Eric Prindle by disqualification after Prindle landed an illegal groin show, which the referee decided to call the fight a disqualification instead of a no contest.
Santos is known for his ability to take the fight to the ground and finish the fight with a submission. Five of his eleven career victories are by submission and two of his three Bellator wins have come by rear-naked choke submission.
Hale is a former light heavyweight fighter that move up to the heavyweight division after having issues making the light heavyweight limit of 205 pounds. He is a finisher and six of his last seven wins have come by either knockout or submission. His only lost in Bellator came in the season four light heavyweight tournament final against Christian M'Pumbu, which he was defeated by knockout.
Hale will need to keep this fight standing and stop the takedown attempts of Santos to get the victory. Hale will have a speed advantage in the fight and will have to use this. Also, even though Hale likes to ends fight quick, he may look to take the fight to the later rounds and test the cardio of his opponent. The advantage that Santos will have in this fight will be his grappling and size. At yesterday's weigh-in, Santos almost had a 30 pound weight advantage and look for him to go for a takedown quickly in this fight.
Prediction: Thiago Santos by submission in first round
Mike Richman (13-1) vs. Shahbulat Shamhalaev (10-1-1)
This will be a semifinal in this season's featherweight tournament and both fighters had knockout victories in the quarterfinals of this tournament. Richman only needed 23 seconds to defeat Jeremy Spoon by knockout at Bellator 76. 12 of his victories are by stoppage and is currently on a four fight winning streak.
Shamhalaev has gone 8-0-1 in his last nine fights and his last two wins have come by knockout. In the tournament quarterfinals, he stopped Cody Bollinger at the end of the first round and it was his fifth career victory by knockout.
It's expected for this fight to be a striking battle and the fight will only go to the ground if one of the fighters is losing the striking aspect of the fight. Richman has one punch knockout ability and Shamhalaev doesn't have the striking power that Richman has.
Prediciton: Mike Richman via TKO in first round
Douglas Lima (21-5) vs. Jacob Ortiz (13-3)
This will be a catchweight bout of 180 pounds and will be the first time Lima has stepped in the Bellator cage since he was defeated by Ben Askren earlier this year. Prior to his lost to Askren, he had won nine straight fights, which included wins over Ben Saunders, Chris Lozano and Ryan Ford.
Ortiz has won five of his last six fights and this will be the second time he steps into the Bellator cage. His Bellator debut came last year at Bellator 55 and he defeated Edgar Garcia by knockout in the first round.
Ortiz primarily fights as a middleweight and will have a size advantage in this fight, but Lima is the more experience fighter. He should be able to control the fight on the feet or the ground and should get the victory.
Prediction: Douglas Lima by TKO in second round
Ryan Ford (18-4) vs. Kyle Baker (12-6)
Since making his debut in 2007, Ford has proven to be a fighter that looks for the finish as 17 of his victories are by knockout or submission. He is currently on a two fight winning streak has has won six of his last seven fights. His last five wins are by knockout and won his Bellator debut earlier this year against Luis Santos.
Baker was originally slated to meet Paul Daley on this card, but visa issues caused Daley to withdraw from the fight card. He has gone 3-2 in his last five fights and this will be his Bellator debut. He has gone to the decision in three of his last four fights with his last two losses coming by decision.
Ford will likely look to take the fight to the ground and use his ground strikes, but has shown improvements in his stand up game. Baker likes to pin his opponent against the cage and will look to grind out a victory.
Prediction: Ryan Ford by decision