The co-main event at UFC 154 in two weeks will be a number one contenders bout in the UFC welterweight division as Martin Kampmann meets Johny Hendricks.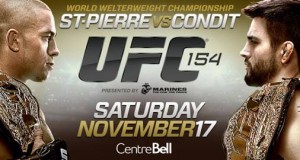 Kampmann has been in the UFC since 2006 and has gone 11-4 in the UFC and is currently on a three fight winning streak.
He has faced some tough competition in the UFC, which he holds wins over Carlos Condit, Jake Ellenberger and Thiago Alves.
"I've worked hard and beat some tough dudes to get my title shot and right now Johny Hendricks is in my way and I'm going to knock his ass out to get it," Kampmann said.
During his career, he holds 15 wins by stoppage with 8 of those wins coming by knockout and 7 coming by submission. He does prefer to be in five round fights because it gives him more time to finish his opponent, but will have to finish Hendricks in three rounds for this fight.
"I love getting the finish and not having to go to the decision," he said. "I prefer to fight five round fights because it gives us more time to get the finish. This fight is a three round so I'll have to finish it in three rounds. I'm going to get the finish."
Even though Hendricks has knocked out opponents with his left hand, Kampmann knows that the biggest strength of his opponent is his wrestling. The two fighters actually trained with each other at one time in Las Vegas and Kampmann believes that he can beat Hendricks standing and stop the takedown attempts.
"I use to train with him here in Las Vegas. I still feel I am a lot slicker that him in the stand up. I feel that my wrestling has come a long way and I can beat his ass standing and defend the takedown."