The Bellator 79 weigh-in's took place on Thursday afternoon at Casino Rama in Canada and the fight card is now official with two tournament semifinal bouts.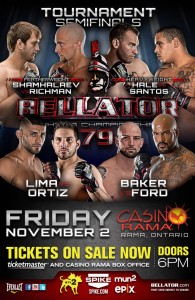 The main event tomorrow night will be one of the heavyweight tournament semifinal bouts as Rich Hale (238.4) meets Thiago Santos (265.2) and the winner will advance to the finals, which will take place at the end of this Bellator season.
The other tournament semifinal bout will be in the featherweight tournament as Shahbulat Shamhalaev (145.6) takes on Mike Richman (145.2).
The full Bellator 79 weigh-in results are below:
Main Card: (MTV2/EPIX2 – 8 p.m. ET)
Rich Hale (238.4) vs. Thiago Santos (265.2) *
Shahbulat Shamhalaev (145.6) vs. Mike Richman (145.2) **
Douglas Lima (179.4) vs. Kobe Ortiz (179.8)
Ryan Ford (169.8) vs. Kyle Baker (170.8)
Preliminary Card: (Spike.com –  6 p.m. ET)
Christ Franck (172.2) vs. Marcus Aurelio (170.4)
Vladimir Starcencov (260.2) vs. Vitaly Minakov (245.8)
Josh Pulsifier (155.4) vs. Magomedrasul Khasbulaev (155.4)
Jonny Carson (155.6) vs. Guillaume DeLorenzi (155.6)
Ed Carpenter (236.6) vs. Josh Appelt (256.2)
* – Heavyweight Tournament Semifinal
** – Featherweight Tournament Semifinal