The Bellator 81 weigh-in's took place on Thursday afternoon at the Ryan Center in Kingston, Rhode Island and the fight card is official after every fighter was on weight.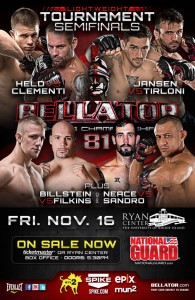 Tomorrow night's main card on MTV2 and EPIX HD will be feature the semifinals of the season seven lightweight tournament with Marcin Held (14-2) meeting Rich Clementi (45-21-1) and Dave Jansen (17-2) taking on Ricardo Tirloni (15-2).
All four fighters weighed in at 156 pounds and the winners will advance to the finals at Bellator 84 on December 14th.
Also on the main card tomorrow night will be two time tournament finalist Marlon Sandro (22-4) taking on former UFC fighter Dustin Neace (23-18-1).
The full Bellator 81 weigh-in results are below:
Main Card: (MTV2/EPIX – 8 p.m. ET)
Marcin Held (156) vs. Rich Clementi (156) #
Dave Jansen (156) vs. Ricardo Tirloni (156) #
Dustin Neace (146) vs. Marlon Sandro (145.5)
Perry Filkins (185) vs. Jonas Billstein (185)
Preliminary Card: (Spike.com – 6 p.m. ET)
Eric Brown (155.5) vs. Andrew Caldandrelli (156)
Joe Lamoureux (185) vs. Dan Cramer (185.5)
Murad Machaev (167) vs. Lorawnt-T Nelson (165)
Mike Mucitelli (209.5) vs. Matt Uhde (209.5)
Sam McCoy (185) vs. Brennan Ward (184.5)
Paul Barrow (155) vs. Matt Bessette (150)
Robbie LeRoux (135) vs. Ruben Rey (136)
# – Lightweight Tournament Semifinal