Georges St-Pierre will return to the octagon on Saturday night for the first time in 19 months when he takes on Carlos Condit in a welterweight title unification bout.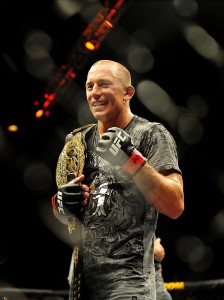 However, all of the talk over the past couple of weeks has been about the potential super fight between St-Pierre and UFC middleweight champion Anderson Silva.
Silva will be in attendance on Saturday night at the Bell Centre in Montreal and UFC President Dana White told ESPN today that a fight between Silva and St-Pierre would be the biggest fight in the history of the UFC.
"Anderson Silva will be there this Saturday watching and if he (St-Pierre) wins it'll be a huge fight for us," White said. "It will probably be the biggest fight in UFC history. It'll definitely be the biggest gate. We've had big gates pretty much everywhere we've gone, but this one would be either a soccer stadium down in Brazil, Dallas' Texas Stadium, or we'd do Toronto again."
However, Silva recently told Tatame that he is planning on not returning to the octagon until the end of 2013. White has heard this before from the middleweight champion and does not believe that Silva will not return until the end of next year.
"He said he wouldn't fight Chael Sonnen again either, but he did," White said. "He always comes out and says this stuff. I don't know why he does it or why he says the things he says. I guarantee you, he will be there Saturday. If Georges St-Pierre wins, those two will fight and it'll probably be in May."
If the UFC is able to book a super fight between St-Pierre and Silva in May, likely dates for the fight would be May 4th, 11th, or 18th. The UFC holds an annual Memorial Day Weekend fight card in Las Vegas, so it would appear more likely that the UFC would attempt to book Cowboys Stadium in the early part of May.
However, before the UFC can worry about booking this super fight, St-Pierre must defeat Condit on Saturday night and Condit has said he plans to ruin the plan for this super fight.