UFC lightweight champion Benson Henderson will be making his second UFC title defense in three weeks when he is challenged by Nate Diaz in the main event of UFC on FOX 5 on December 8th in Seattle.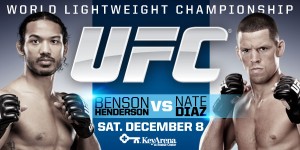 During his training camp, Henderson has been working with training partners that imitating his opponent's style.
One of the things that his training partners are doing to get him ready for his fight with Diaz is the trash talking that Diaz does and this is something that Henderson told "Inside MMA" on AXS TV that he struggles with.
"We are definitely trying to prepare for his physical tools, his long reach, his boxing style that he has, but the biggest thing I have had trouble with so far to be honest is having my teammates talk a little bit of trash inside the octagon and have me stay calm and not be worked up," Henderson said. "I actually have a hard time with that. Someone talks trash to me, I want to talk trash back and I get emotional back to them. So I have been working on staying calm, collective and still doing my technique and not following into his game. I got to get a little more work into that."
After hearing this quote, this will probably cause the Diaz camp to instruct the fighter to talk more trash talk than normal in hopes they can get inside the champions head and it could lead to a mistake in the fight.