The next UFC event will take place on December 8th from Seattle'e KeyArena and will be headlined by Benson Henderson defending the UFC lightweight title against Nate Diaz.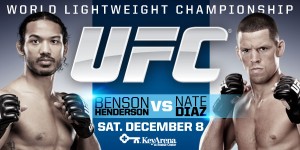 The action will start with the preliminary card, which will see five fights with the final bout on the preliminary card being a heavyweight bout as former TUF finalist Brendan Schaub looks to snap a two fight losing streak when he takes on Lavar Johnson.
The main card will then begin at 8 p.m. ET on FOX and will have four fights and along with the title fight, the card will feature former UFC champion Mauricio "Shogun" Rua and BJ Penn.
The full UFC on FOX 5 card is below:
Main Card: (FOX – 8 p.m. ET)
Benson Henderson (16-2) vs. Nate Diaz (16-7) – LW Title Bout
Mauricio Rua (21-6) vs. ALexander Gustafsson (14-1)
BJ Penn (16-8-2) vs. Rory MacDonald (13-1)
Mike Swick (15-4) vs. Matt Brown (17-11)
Preliminary Card: (FX – 5 p.m. ET)
Brendan Schaub (9-3) vs. Lavar Johnson (17-6)
Michael Chiesa (8-0) vs. Marcus LeVesseur (22-6)
Nam Pham (18-10) vs. Dennis Siver (20-8)
Daron Cruickshank (11-2) vs. Henry Martinez (9-2)
Ramsey Nijem (7-2) vs. Joe Proctor (8-1)
Yves Edwards (41-18-1) vs. John Cholish (8-2)
Preliminary Card: (Facebook – 3:45 p.m. ET)
Raphael Assuncao (17-4) vs. Mike Easton (13-1)
Scott Jorgensen (13-6) vs. John Albert (7-3)
Tim Means (18-3-1) vs. Abel Trujillo (9-4)