Former UFC light heavyweight champion Forrest Griffin will be in the co-main event of UFC 155 on December 29th when he takes on Phil Davis.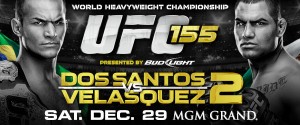 Griffin was originally scheduled to face Chael Sonnen, but Davis got the call to replace Sonnen when he was moved to face Jon Jones in 2013.
Davis is known for wearing pink tights in his fights and Griffin does not want to get beat up by someone wearing pink tights.
"The thing about Phi Davis, I really don't want to get beat up by a guy in pink tights," Griffin said.
When it comes to the fight, Davis is known for his wrestling and being able to submit his opponents. In particular, he is known for his anaconda choke which he has used to defeat Alexander Gustafsson and most recently Wagner Prado.
"I have a lot of things to watch out for. He is long, he is quick, great wrestling, great anaconda choke, so I got that to look forward to. He does a great job of beating you up from the top, frustrating you before you come up into him and kind of bad form and thats when he looks for the anaconda choke."
Griffin has never been finished by submission in his career and four of "Mr. Wonderful's" win have come by submission. Both fighters are coming off wins in their last matchup and a win at UFC 155 could put them back in the mix in the light heavyweight division.