The natural progression for a wrestler these days is to come to mixed martial arts once their amateur career is over and thats what former Olympic wrestler Shawn Bunch will do tomorrow night at Bellator 82.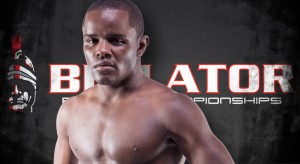 After attempting to make the Olympic team earlier this year, Bunch decided that it was time to make the transition and started training full time at American Kickboxing Academy in California.
Even when he was preparing for the Olympics in 2008, Bunch knew that he would eventually move over to the fight game and a career as a mixed martial artist.
"When I was training back in Colorado Springs in 2008 and 2009, I knew MMA would be in my future," Bunch told TheMMAReport.com. "I actually thought I would be done in 2008 wrestling. I was an alternate on the '08 Olympic team and then I wanted to start fighting but I decided to wait till after another cycle to get into the fight game."
When it came down to picking where would would train at, American Kickboxing Academy was an easy pick for him because of the amount of wrestlers that are there.
"A lot of wrestlers go there (AKA) and have success there. Daniel Cormier and Mo Lawal, those two guys mainly are the reason I came out here to train."
His opponent tomorrow night at Bellator 82 at the Soaring Eagle Casino and Resort in Mount Pleasant, Michigan will be Chad Coon. Bunch is familiar with Coon since his older brother wrestled with him at Lindenwood University.
"I know he wrestled at Lindenwood University. My older brother was on the same team as him and was kind of friends with him since they wrestled at Lindenwood. He has been fighting for a little bit, has had a lot of amateur fights and one pro fight."
Coon has fought in amateur fights and has one career profession fight, which was a lost a TKO lost in the first round last year against Michael Hernandez. Since Bunch has not had any amateur of professional fights, he would seem to have an advantage in the fight because Coon does not know how he fights.
"All he knows is that I'm going to go out there and take him down. I'm pretty sure he is trying to work on defending the takedown but its not really possible to get anybody that can emulate in the wrestling world that takedowns are as good at me. It's for sure my advantage because he doesn't know what I am going to do. I can do anything and could be a whole different type of person. We are not going to know how I'm going to fight until I actually get into the cage and the bell goes."
Bunch knows that he will be nervous tomorrow night when he steps into the cage and plans to do whatever it takes to get a victory in his first professional fight.