Georges St-Pierre will return to the UFC on Saturday night after being out with a knee injury and will take on Carlos Condit in a welterweight title unification bout in the main event of UFC 154 in Montreal.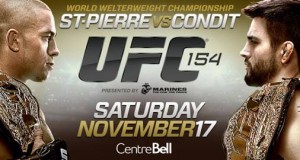 During "UFC Tonight" on FUEL TV, Condit (28-5) said that St-Pierre's knee is not off limits since he is stepping into the octagon.
"If someone in the cage, you can't say 'hey man that is off limits.' There are no time outs, there are no substitutions," Condit said.
He has not been working on more low legs kicks in his training camp because of his opponent returning after a knee injury, but knows that St-Pierre is still a dangerous opponent.
"Georges is such a dynamic fighter. He is an incredible athlete. He is a powerful, explosive guy. Between takedowns and strikes, there is a lot to deal with."
In the weeks leading up to this fight, even though St-Pierre is the welterweight champion and Condit is the interim champion, St-Pierre feels that his opponent is the champion and he is coming to win the title. However, Condit feels that St-Pierre is still the champion and until someone beats him, he is the champion.
"We could go back and forth on this all day. I really feel like Georges is the undisputed champion. He has been so dominate in the division for the last several years, he has been undefeated and until someone defeats him, he is the champion."
If Condit is able to get the victory on Saturday night, he would be the first time since 2007 that St-Pierre has been defeated. Matt Serra is the last fighter to get a victory over St-Pierre and the welterweight champion is currently on a nine fight winning streak.
He  admitted last night that this opportunity to take on St-Pierre for the title and in his opponents hometown is surreal and an opportunity of a life time.
"This fight is something I have been working toward for 10-12-15 years since I first started competing, and not even competing but training in mixed martial arts. This is a dream of mine. To fight GSP for the title in his home town for the undisputed belt is both surreal and an opportunity of a lifetime."