Nick Ring was scheduled to take on Constantinos Philippou on the pay-per-view portion of tonight's UFC 154 card, but the bout has been scratched after Ring became ill.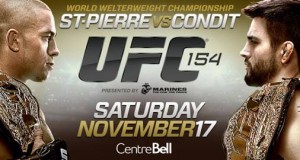 UFC officials announced the change late this morning after the doctor with the athletic commission would not clear him to fight.
The UFC will pay Philippou his show money and they will look to book him for fight as soon as they can.
With this fight being canceled, the UFC said that replacing the bout on the main card will be a lightweight bout between Mark Bocek and Rafael Dos Anjos. This bout was scheduled to take place on the preliminary card on FX. Replacing this bout on FX will be a featherweight bout between Antonio Carvalho and Rodrigo Damm, which was scheduled to be on the preliminary card on Facebook.
The current UFC 154 card lineup is below:
Main Card: (PPV – 10 p.m. ET)
Georges St-Pierre (22-2) vs. Carlos Condit (28-5)
Martin Kampmann (20-5) vs. Johny Hendricks (13-1)
Francis Carmont (19-7) vs. Tom Lawlor (8-4, 1NC)
Mark Bocek (11-4) vs. Rafael Dos Anjos (17-6)
Mark Hominick (20-11) vs. Pablo Garza (11-3)
Preliminary Card: (FX – 8 p.m. ET)
Patrick Cote (17-8) vs. Alessio Sakara (15-9, 1NC)
Cyrille Diabate (18-8-1) vs. Chad Griggs (11-2)
Sam Stout (18-7-1) vs. John Makdessi (9-2)
Antonio Carvalho (14-5) vs. Rodrigo Damm (10-5)
Preliminary Card: (Facebook – 6:20 p.m. ET)
Matthew Riddle (6-3, 1NC) vs. John Maguire (18-4)
Ivan Menjivar (24-9) vs. Azamat Gashimov (7-1)
Steven Siler (21-9) vs. Darren Elkins (14-2)