UFC 154 took place this past Saturday night at the Bell Centre in Montreal, Quebec, Canada and the medical suspensions were released on Tuesday afternoon.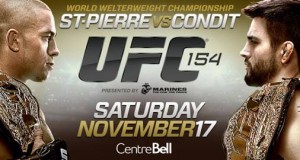 The suspensions were announced by the Quebec Athletic Commission and all 24 fighters on the card received at least a seven day suspension.
The commission does not release the exact reason why the fighters received a suspension and the fighters with the longest suspensions were Martin Kampmann and Patrick Cote, with both fighters being suspended sixty days.
The full UFC 154 medical suspensions are below:
Georges St-Pierre: 28 days
Carlos Condit: 30 days
Johny Hendricks: 7 days
Martin Kampmann: 60 days
Francis Carmont: 14 days
Tom Lawlor: 14 days
Rafael dos Anjos: 14 days
Mark Bocek: 45 days
Pablo Garza: 14 days
Mark Hominick: 45 days
Patrick Cote: 60 days
Alessio Sakara: 7 days
Cyrille Diabate: 7 days
Chad Griggs: 30 days
John Makdessi: 14 days
Sam Stout: 14 days
Antonio Carvalho: 14 days
Rodrigo Damm: 14 days
Matt Riddle: 14 days
John Maguire: 14 days
Ivan Menjivar: 7 days
Azamat Gashimov: 7 days
Darren Elkins: 14 days
Steven Siler: 14 days