The seventh season of the Bellator Fighting Championships is near the end and the one of the final events of the season will take place on December 7th at Caesars Atlantic City, which will be headlined by the featherweight tournament final.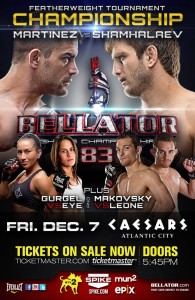 The fight card will begin with the preliminary card on Spike.com at 6 p.m. ET and the main card will begin at 8 p.m. ET on MTV2 and in commercial free high definition on EPIX HD.
Bellator officials announced the fight card yesterday and there is currently three fights scheduled to take place on the main card.
In the main event, Rad Martinez (14-2) and Shahbulat Shamhalaev (11-1-1) will meet in the season seven featherweight tournament final and the winner will be guaranteed a shot at the Bellator featherweight title.
Also, the card will see a women's flyweight bout as Bellator 115 lb champion Zoila Gurgel (12-1) takes on Jessica Eye (6-1) and former Bellator bantamweight champion Zach Makovsky (14-2) returns to the Bellator cage after losing his title earlier this year to take on Anthony Leone (10-5).
The current Bellator 83 fight card is below:
Main Card: (MTV2/EPIX2 – 8 p.m. ET)
Rad Martine (14-2) vs. Shahbulat Shamhalaev (11-1-1)
Zoila Gurgel (12-1) vs. Jessica Eye (6-1)
Zach Makovsky (14-2) vs. Anthony Leone (10-5)
Preliminary Card : (Spike.com – 6 p.m. ET)
Nick Kirk (7-0) vs. Claudio Ledesma (7-3)
Tuan Pham (0-0) vs. Matthew Lozano (3-0)
Brylan Van Artsdalen (7-4) vs. Terrell Hobbs (2-5)
Darrell Horcher (7-1) vs. Chris Liguori (15-9)
Jimmie Rivera (0-0) vs. TBA
Najim Wali (3-1) vs. Kelvin Tiller (5-0)
Alexi Kudin (11-4) vs. TBA