UFC on FOX 5 will take place next Saturday night from KeyArena in Seattle and the UFC has announced the full broadcast plans for the fight card.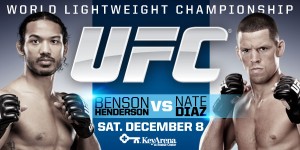 The fight card will have 12 fights and the preliminary card will begin at 3:45 p.m. ET/12:45 p.m. PT on the UFC Facebook page with 3 fights and the remaining 5 preliminary card fights will be shown on FX and begin at 5 p.m. ET/2 p.m. PT.
The main card will then begin at 8 p.m. ET/5 p.m. PT on FOX and will have four fights, which will be headlined by Benson Henderson (16-2) defending the UFC lightweight title against Nate Diaz (16-7).
The full UFC on FOX 5 fight card is below:
Main Card: (FOX – 8 p.m. ET/5 p.m. PT)
Benson Henderson (16-2) vs. Nate Diaz (16-7)
Mauricio Rua (21-6) vs. Alexander Gustafsson (14-1)
BJ Penn (16-8-2) vs. Rory MacDonald (13-1)
Mike Swick (15-4) vs. Matt Brown (17-11)
Preliminary Card: (FX – 5 p.m. ET/2 p.m. PT)
Michael Chiesa (8-0) vs. Marcus LeVesseur (22-6)
Raphael Assuncao (17-4) vs. Mike Easton (13-1)
Dennis Siver (20-8) vs. Nam Phan (18-11)
Ramsey Nijem (7-2) vs. Joe Proctor (8-1)
Yves Edwards (41-18-1) vs. Jeremy Stephens (20-8)
Preliminary Card: (Facebook – 3:45 p.m. ET/12:45 p.m. PT)
Daron Cruickshank (11-2) vs. Henry Martinez (9-2)
Scott Jorgensen (13-6) vs. John Albert (7-3)
Tim Means (18-3-1) vs. Abel Trujillo (9-4)