The UFC recently announced that they would be heading back to Brazil on January 19th for UFC on FX 7 and the organization has announced that they will be heading back to Sao Paulo.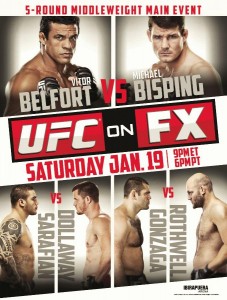 UFC officials announced the venue on Wednesday when they released the official poster and the fight card will come from Sao Paulo's Ginasio do Ibirapuera.
The fight card will be headlined by a five round middleweight bout as former title contender Vitor Belfort meets Michael Bisping and the winner could be in line for a title shot.
The full UFC on FX 7: Belfort vs. Bisping card is below:
Main Card: (FX – 9 p.m. ET)
Vitor Belfort (21-10) vs. Michael Bisping (23-4)
C.B. Dollaway (12-4) vs. Daniel Sarafian (7-2)
Gabriel Gonzaga (13-6) vs. Ben Rothwell (32-8)
Khabib Nurmagomedov (18-0) vs. Thiago Tavares (17-4-1)
Preliminary Card:
Godofredo Castro (8-1) vs. Milton Vieira (13-7-2)
Andrew Craig (8-0) vs. Ronny Markes (13-1)
Nik Lentz (22-5-2) vs. Diego Nunes (18-3)
Edson Barboza (10-1) vs. Justin Salas (10-4)
Michael Kuiper (12-1)vs. Thiago Perpetuo (9-1-1)
Yuri Alcantara (28-4) vs. George Roop (12-9-1)
Roger Hollett (13-4) vs. Wagner Prado (8-1, 1NC)
Francisco Trinaldo (11-2) vs. C.J. Keith (8-1)