The Bellator Fighting Championships is wrapping up their seventh season and will be moving to Spike TV in January for their eight season.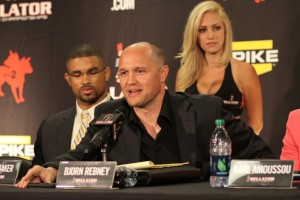 The organization has already announced that two of the tournaments that will take place in the upcoming season will be light heavyweight and welterweight.
Along with those tournaments, Bellator Chairman and CEO Bjorn Rebney told TheMMAReport.com that the upcoming season will also see tournaments in the featherweight and lightweight divisions.
"55 and 45 will absolutely be in it as well," Rebney said. "We just got way to much meat at the bone at 55 and as I have said many times, I think our 45 division is the best one out there right now. Our feathers have given us some incredible fights and so we are going to get that going."
The featherweight and lightweight divisions are considered the best divisions in Bellator and their is currently a log jam in the featherweight division. Current Bellator featherweight champion Pat Curran was scheduled to face Patricio "Pitbull" Freire in August, but Curran suffered a fractured orbital bone in training and had to pull out of the fight.
Daniel Straus, who won the featherweight tournament during season six is waiting for his title shot and the winner of the Bellator 83 tournament final between Rad Martinez and Shahbulat Shamhalaev will be after Straus.
The good news for Bellator and Rebney is that Curran is back to 100 percent and is back in the gym training.
"Curran is one hundred percent right now. He is back in the gym and that fractured orbital is healed and he is in full sparring right now."
Rebney is hopeful that the winner of the Curran/Pitbull matchup will walk out of the fight healthy and they will be able to book the fight with Strauss in a timely fashion. In a perfect world, it would be optimal for the title to be defended three times in 2013 and potential four title defenses in a 15 month period.